---

THE WARDROOM BOOKSHELF
Military History Novels - Fiction
Novels about World War II Submarines
in the Pacific and the Battle of the Atlantic


WWII Submarine Warfare Novels

---

Below is a collection of some of the finest fictionalized books available regarding the military history of World War II submarine warfare in both the Battle of the Atlantic and in the war in the Pacific against Japan. Those novels which are currently available and listed on these pages are linked directly to that title at Amazon.com.



Updated 06 January 2007
---
WWII Submarine Warfare: Pacific Theater
By J.T. McDaniel
Bacalao may just be the best World War II submarine novel published in the last 30 years. It is certainly the most technically accurate. From diving procedures, to torpedo firing, to the way orders are given and executed, everything is done right.

The technical stuff will certainly please the submariners. But what about the other readers, who may not know a TDC from a growler phone and just want interesting characters and realistic situations? You get those, too. The main character, Lawrence Miller, is introduced as a retired admiral arriving at a reunion, but by the third page he's back in 1940 as a young lieutenant watching his new boat being built in Connecticut.

Bacalao has just about everything you could want in a sub story. The characters are believable, with even the minor players fully fleshed out. The technical details are right on, and there's plenty of action to keep the story moving. I read a lot of sub books, mostly non-fiction, but I read my share of novels, too. This is one that sets the standard others will have to meet.
Amazon.com review
Run Silent, Run Deep
WWII Submarine Warfare: Pacific Theater
by Edward Latimer Beach
Edward L. Beach, Jr. rolled aspects of several real Navy officers into "Rich" Richardson, the central character in Run Silent, Run Deep, including "Swede" Momsen, "Mush" Morton, Howard Gilmore, "Dusty" Dornin, George Street and, of course, Beach himself. In the same way, the three fleet boats Beach served in, Trigger, Tirante and Piper, provided models for some scenes in the story.

If you've seen the movie, but never read the book, you're in for a surprise. The book covers a much longer period, from late December 1941 until the end of the war. And, while Richardson has two wartime commands in the book, just as in the movie, he is ashore nursing a broken leg, and standing in for Momsen solving the torpedo exploder problem, when Walrus is lost. The conflict with Bledsoe starts much earlier, in the old S-16, when Richardson feels compelled to withdraw his recommendation that Bledsoe get his own command after Bledsoe fouls up and nearly gets the boat sunk during a qualification test. The little detail that both of them are in love with the same girl adds to the conflict. Of course, a major difference is that Richardson survives, though that becomes fairly obvious from the opening words of the novel, which is told in the first person.

There are aspects of the undersea battle in the World War II Pacific that get less attention than they might today. Richardson is telling the story from his own viewpoint, so obviously he can't relate anything he doesn't see. Also, these old fleet subs were still primary fleet components when this book was first published in 1955, and many of the details were still classified. Beach provides as much detail as he can, but some processes remain deliberately obscure.
Amazon.com review
Dust on the Sea
WWII Submarine Warfare: Pacific Theater
by Edward Latimer Beach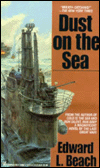 Forget the movie "Run Silent" from 1958 - "Dust" is a sequel to the very original book, faithful to everything about it not kept in the film. In the book (which follows Ed "Rich" Richardson throughout his career in the early days of WWII, rather than on a single cruise), Rich avenges himself on "Bungo Pete", a near-mythical IJN officer whose mastery of the science of subhunting has dearly cost the USN. one of the victims is Jim Bledsoe (played by Burt Lancaster in the film, but otherwise sharing no resemblance to Beach's creation) "Run" ends with Richardson executing the crew of Pete's ship - presumbly including Pete himself, knowing that Pete will remain a danger as long as he's alive. "Dust" opens where "Run" left off - with Rich returning to Pearl, with conflicting emotions over the morality of his act. It's the inner moral dilemma that haunts Rich throughout the book, even as the story - which returns Rich to the battle-waters of the South Pacific - has little to do with it. Instead, in "Dust", Rich has his ship essentially commandeered by his commodore and joined to others in an experiment in "wolfpacking" the Japanese. Rich's superior quickly shows signs that he's got his own problems, but Rich's demons (which also include a burgeoning love for Jim Bledsoe's widow even as he romances another woman in Hawaii, a lapse that will come back to Haunt Rich in "Cold is the Sea".) prevent him from thinking or acting forcefully against the commodore. There's a gratuitous subplot involving Rich's capture by a brutal Japanese naval commander on a lower order than Bungo Pete - it doesn't do much for the plot, while the character's unrelieved meanness makes it clear that the story needed some idiot to kick around. Getting back to the war, Beach artfully and magnificently mixes on-board intrigue with the sea battle going on around Rich's sub. Beach's flaws (characters are on the whole just decent people, making the imperfect ones look unnneccessarily unlikable; rather than dialog, Beach has his characters speak in large, unbroken paragraphs, so instead of conversations, Beach's officers engage in miniature briefings; that made sense in "Run" which had a first person narrative, but doesn't work in "Dust" which reverts to 3rd person) are outbalanced by his expertise, even for those unfamiliar with the science of submarine warfare, and easily so for those who know a thing or two.
Amazon.com review
Gunfish:
A Fleet Submarine Goes to War

WWII Submarine Warfare: Pacific Theater
By Claude M. Pearson
Claude Pearson's vivid portrayal of Charley Jason's experiences aboard Gunfish in 1944 and 1945 brings submarine warfare to life. The experience of being on a submarine in the Pacific, hunting Japanese shipping, battling Kamikaze pilots, rescuing downed American flyers in the water, and missing friends and lovers back home remains remarkably palpable throughout the book. After getting my copy of the novel, I read it straight through on transcontinental flight... often finding myself turning the pages as fast I could to find out what would happen next to Jason, Flowers, Carruther, Janet Blair, and the rest of the characters. The funniest moments arise more often than not in the pages of an illegal diary kept on board the Gunfish and in the Gunfish Gargoyle. It has been a while since I found myself so genuinely attached to a cast of characters and I was happy to see Pearson remain true to his characters by resisting the temptation to bring everything to a tidy conclusion.
Final Harbor

WWII Submarine Warfare: Pacific Theater
By Harry Homewood

Homewood's writing is fantastic, while reading his books you literally become immersed and unable to put them down. After reading Final Harbor I immediatley began searching for Silent Sea. Absolutly the best author on this subject I have ever encountered. I still periodically check to see if he has anything new published under this name. Just wish I knew what name he is writing under now. I have all 4 of his titles and will still dig them out and read them again every so often. This is the highest praise I can give an author. Amazon.com review


Silent Sea

WWII Submarine Warfare: Pacific Theater
By Harry Homewood

Reading the "Silent Sea" draws you into the murky and dangerous depths of the Pacific Ocean during World War II in a historically accurate and compelling drama of a US submarine and it's crew. The author writes in easy to read prose and has a knack for keeping your interest on every page.

Amazon.com review


Pride Runs Deep

WWII Submarine Warfare: Pacific Theater
By R. Cameron Cooke
"Pride Runs Deep" is an outstanding first book by R. Cameron Cooke. Set in the Pacific Theater during World War II, Lieutenant Commander Jack Tremain is given the unenviable task of commanding the USS Mackerel after the attack submarine's previous commander has been relieved for cause. The crew is externalizing their poor performance as a string of bad luck and Tremain must right the attitudes and actions of the crew while leading them in enemy waters. After successfully completing the objectives of his first and supposedly last mission aboard the Mackerel, Tremain is ready to move on to a bigger command assignment. However, before he could leave he is set up by his leadership to stay on for one more mission; a mission that could strike at the heart of the Japanese war machine but also one that the Mackerel may very well not return from.

A very gripping piece of refreshing fiction, skillfully penned by a submariner who makes you feel part of the Mackerel's crew. Within a few chapters, his complex and flawed characters can sway your emotions from outright disdain to sympathetic compassion. It is well written, easy to understand, and paints a detailed picture of what is happening on board the submarine and in the battles without being overly technical. Geared to a military audience, it does not discriminate if you enjoy fictional drama. A quick read you will not want to put down. I recommend this book.
Amazon.com review
Up Periscope

WWII Submarine Warfare: Pacific Theater
By Robb White
This is WWII book that is based on a true story. It is about one of the first navy frogmen, Ken. In the story the pilot of a Japanese plane attacks the sub on which Ken is riding on. The captain of the sub is the only one hit, thanks to his ability to do a crash dive. The sub however, has a big hole in it. Ken then had to do go down and find out the damage. The hole was huge! They had to make temporary repairs before continuing. Then Ken went to complete his recon mission on the island. I won't spoil the ending but let's just say it's surprising! I'm a history buff who really likes learning about WWII. So that's why I choose this book. Don't be put off by how short this book is, it is factual but has a plot.

Amazon.com review
Battle Downunder

WWII Submarine Warfare: Pacific Theater
By Charles W. Rush

After the Japanese attack on Pearl Harbor --December 7, 1941 -- American submarines loaded torpedoes and set out for combat in the western Pacific. They sent Japanese ships to the bottom of distant seas where all American and Allied surface ships had been destroyed.

This is the story of one submarine that fought its way across the vast Pacific, through the East Indies, and down the Indian Ocean to Western Australia, the land Downunder. Based there, joined by other subs, the submarine STRIKER penetrated enemy strongholds in the Java and South China Seas and decimated convoys of ships laden with invasion troops and munitions.

Many submarines never returned from their combat patrols. That did not diminish the courage and determination of those who survived.




The Keeper's Son

WWII U-Boats: Battle of the Atlantic
By Homer Hickam
A gutsy Coast Guard officer battles German submarines and 17 years of unfettered guilt on the North Carolina coast in 1941 and 1942 in this high adventure yarn. Hickam, the author of the memoir Rocket Boys (which was turned into the film October Sky), knows a great deal about submarine warfare in WWII, as evidenced by his 1989 nonfiction naval history, Torpedo Junction. This is the first novel of a planned series about rough and tumble Coast Guard Lt. Josh Thurlow and his unusual patrol boat crew during WWII. Josh, 31, is a career officer assigned to Killakeet Island, along North Carolina's treacherous Outer Banks. Both he and his father-the keeper of the Killakeet Lighthouse-are haunted by the loss at sea and presumed death of Josh's two-year-old baby brother 17 years earlier. Shaken from his brooding by the appearance of German U-boats, Josh must try to protect the merchant ships torpedoed every night offshore. His patrol boat is small and ill-equipped, and his crew is a wacky group of casual islanders who aren't sure they really want to fight anybody. A talented U-boat commander named Krebs becomes Josh's honored enemy, but another U-boat skipper is a far more ruthless and dangerous adversary. Josh must fight both, as well as his suspicions that his little brother may not be dead after all; the reappearance of a childhood sweetheart leavens the mix. Hickam provides a vivid and convincing portrayal of life under the sea in a U-boat, as well as on the surface in a fragile patrol boat. Well-crafted characters, gripping naval warfare and colorful island life come.
Amazon.com review
With Honour in Battle

WWII U-Boats: Battle of the Atlantic
By J.T. McDaniel
Okay, if you are like me you only read non-fictional books about U-boats and the naval history associated with them. The thought of reading a fictional book just does not appeal to you and you would rather not even waste your time. Well this book is different. Once I started reading it was hard to put down. If you are a historian, profesional or amateure you will start to see simularities of actual events that took place during the war and the non-fictional events in this book. This did not bother me at all in fact it actually helped me visualize what I was reading about and the events that were taking place. At times I felt as if I was actually there experienceing the events. This book covers the broad spectrum of war and the emotions associated with it from the military/governmental aspect, to battle and the bound shared between men and even love and the will to survive. Like the title of my review, Okay U-boat fans this is a must read book and would even make a great movie in my opinion.The book is about a young decorated U-boat commander who gets a new assignment near wars end. This assignment is both a war mission and experiment. The new boat is like no other and military officials hope it is not to late to make a difference in delaying the end of the war so better surrender conditions can be established for the soldiers and people of Germany.

Amazon.com review

Das Boot: The Boat

WWII U-Boats: Battle of the Atlantic
By Lothar Gunther Bucheim

Das Boot is one amazing book. From the grudges, toils, and rough world of sailors, Herr Buchheim has produced a novel with gut wrenching action and detailed sorrow. From the pre-cast off bar room orgies of sailors, to the maddening world of depth charge bombing, Das Boot will send you on one heck of a ride. The novel is able to capture the emotions of its reader and fully allow them to experience the drudgery performed by the U-Boat men of WW2. This book is written in a personal memoir style and will not appeal to all people. However, if one is interested in reading about the Battle of the Atlantic by the sailors who fought in it, then this is your book. Undoubtedly one of the best written descriptions of warfare that I have ever read.
Amazon.com review

Sharks and Little Fish:
A Novel of German Submarine Warfare



WWII U-Boats: Battle of the Atlantic
By Wolfgang Ott
Wonderfully and skillfully written account of a German sailor in WWII that also weaves parallels with Greek mythology to American classics. Sometimes lighhearted, sometimes bewildering imagery, but always an adventure that takes the hero to hell and back - several times. When one wonders if Teidemann ever makes it back, one realizes that the entire book is written in the first person and this somehow adds to the value of the story. A wonderful examination of the very worst in human nature and nature itself. You will never see seagulls quite the same after this.

Amazon.com review

To Kill the Leopard
WWII U-Boats: Battle of the Atlantic
by Theodore Taylor
A high-impact techno-thriller, this first adult novel by YA author Taylor ( The Weirdo ) brings readers into the heart of WW II's Battle of the Atlantic. American merchant marine officer Sully Jordan sails on oil tankers. Kap i tan leut nant Horst Kammerer specializes in sinking them, and the leopard insignia on the conning tower of his U-boat symbolizes its commander's killer instinct. The men have their first encounter in March 1941 in the north Atlantic, where Kammerer's torpedoes turn Jordan's ship into a flaming torch. Then, a month after Pearl Harbor, the German captain strikes again, sinking Jordan's new tanker off the Virginia coast. The American takes command of a Q-ship, a decoy tanker with concealed weapons, and goes leopard hunting. The novel sustains interest from first page to last with an exciting story line that climaxes in an enthralling final duel between Jordan and Kammerer. Taylor draws his characters, merchant sailors and U-boat crewmen alike, with vivid realism--the portrait of Kammerer, in particular, captures the reckless spirit of a successful U-boat commander--and accurately depicts such settings as a U-boat base at Lorient in occupied France. A major subplot cogently delineates the risks taken by the French underground and the horrors of Gestapo interrogation. To Kill the Leopard is a winner.
Amazon.com review

The Cruel Sea
WWII U-Boats: Battle of the Atlantic
by Nicholas Monsarrat
"The Cruel Sea" focuses on the British naval experience during World War II--more specifically, on the crew of a corvette during the first half of the war and, to a lesser extent, of a frigate during its waning years. Like most war stories, the plotting is at times necessarily predictable (yet still thrilling), but Monsarrat's epic is a cut above in both its human element (even in its occasional depiction of Germans) and in its presentation of the morally gray aspects of war. This is no ode to blind patriotism. Instead, the novel is an elegy on the selfless bravery and selfish survival instincts of a group of sailors whose reasons for being in the war are as varied as the men themselves: the stern but fair-minded Lieutenant-Commander Ericson, the indolent and tyrannical (and somewhat comical) First Lieutenant Bennett, the nervous and self-doubting Sub-Lieutenant Ferraby, the level-headed and thoughtful Sub-Lieutenant Lockhart (who, I would guess, is Monsarrat's alter ego), and a supporting cast of dozens. There are some spine-chilling and devastating battle scenes, but the book never once loses its focus: the men (and women) who fought and endured the war. This novel is a neglected classic and should be read by an audience far beyond the aficionados of war novels.
Amazon.com review
U-859

WWII U-Boats: Battle of the Atlantic
By Arthur Baudzus

This is a great story, told by someone who was actually there. You can tell that certain characters are made up, such as the British lieutenant who is a prisoner aboard U-859 on her long voyage to the Far East. Yet even this clearly fictional character contributes, providing a sounding board for the English-speaking German sailors, who otherwise would never dare say some of the things they need to say. And the German sailors, even with their names changed, are very real. You won't be too far into the story before you figure out which of them would go on to write this book.
According to the back cover the author, Arthur Baudzus, was aboard the real U-859 during this voyage. The scene in the after torpedo room, when the U-boat has been torpedoed and is laying in two pieces on the bottom of the Malakka Straits, is all the more authentic in that it obviously speaks of what happened to the author. Here is a man who has experienced something that killed thousands of his fellow U-boat sailors, yet somehow managed to live to tell of it. And though fact and fiction mingle in this novel, there is plenty here to interest the U-boat history buff.
Amazon.com review

The Good Shepherd

WWII U-Boats: Battle of the Atlantic
By C.S. Forester
This is the story of an American sea captain in charge of bringing a convoy of ships from America to Britain during the early days of America's entry into the Second World War. Confronted by a frightfully competent adversary--the German U-Boat fleet, Captain Krause has a vital mission indeed, as Britain's survival was dependent upon such convoys. Krause is well aware that the outcome of the war at that time was very much in doubt, and he must bring to bear all of the skills he has learned in a career forged largely in peacetime.
Forester always succeeds when he sets out to write a novel of naval adventure, and this book is no exception. This is a wonderful novel. I debated whether to deprive it of the fifth star because I believe that the Hornblower series, and "The Captain From Connecticut" are even better than this novel. But in reality this book is among the very best tales of naval adventure even if Forester has written even better ones, and so five stars it will be.
Storm Warning
WWII U-Boats: Battle of the Atlantic
by Jack Higgins
This is a reprint of a novel originally published in 1976. The story is set in August-September 1944. A group of German naval officers and seamen, stranded in Brazil, steal the aged 3-masted barkentine "Deutschland" and, using false Swedish papers, set out on a voyage from Belem, Brazil, in an attempt to reach Germany. They have unexpected passengers - a group of five German nuns from a nursing order attempting to return home. Their biggest danger is the weather as storms batter the sailing vessel (they neglected the fact that September is the peak season for Atlantic hurricanes). The voyage becomes an epic battle against the elements, and leads to heroism, sacrifice, tragedy, and unexpected compassion. I personally believe that this is one of Higgin's best novels, if not the best. There are some intertwined plots as events come together to reach a final climax to the story.
Amazon.com review

U-571 : A Novel
WWII U-Boats: Battle of the Atlantic
by Max Allen Collins
Their mission was a audacious and daring as it was dangerous. A crew of American sailors in a disguised submarine would rendezvous with U-571--a crippled German U-boat in enemy waters--storm aboard, and capture one of the Nazis' coveted Enigma encryption machines, a device that would allow the Allies to decode secret German transmissions. The planning was meticulous. The secrecy was airtight. Every eventuality was prepared for. Except one.
Now, with their own sub lying in pieces on the Atlantic floor, an unseasoned young U.S. naval officer and a handful of his men are trapped in a limping enemy boat trying to make its way across a thousand square-mile killing zone. Suddenly they are the hunted prey of the Reich's killer ships, and the target of Allied bombers. They have a prize in their possession that can turn the tide of the savage global conflict once and for all. And they have nowhere to run. While on a secret mission targeting the Nazi "Enigma" encryption device, a team of American sailors and marines poses as the German rescue team for a crippled submarine. But before they can grab the device and escape, the real rescue unit arrives and destroys their American vessel. Now they are forced to secretly navigate the malfunctioning submarine through enemy lines. Amazon.com review